Sun, 30 January 2022
15H30 - (Doors: 14H00)
Parc la Grange, Eaux-Vives
15h30: 1 KM poussin·e·s (6-9 ans): 10 CHF15h35: 1 KM écolier·ère·s (10-13 ans): 10 CHF16h20: 10 KM dès 15 ans: 35 CHF15h50: 2 KM cadet·e·s (14-17 ans): 10 CHF18h: 5 KM course de lumière (5-17 ans): 10 CHF18h: 5 KM course de lumière (dès 18 ans): 30 CHF
COVID 3G CERTIFICATE REQUIRED - - In the departure/arrival village, wearing a mask is compulsory from the age of 12. In the village, access is restricted to only people who from the age of 16 are in possession of a healing or vaccination certificate or a test certificate (3G rule) according to the latest measures and ordinances of the Federal Council
Reduced price (AVS « age and survivors insurance », unemployed, AI « disability insurance », Passedanse*)
Youth price (< 20 year old, student)
Junior (< 12 year old, owners of the « 20ans20francs » card)
 
The prices on the online shop are the only ones to be valid.
*Holders of the PASSEDANSE are entitled to the RP for the dance shows only.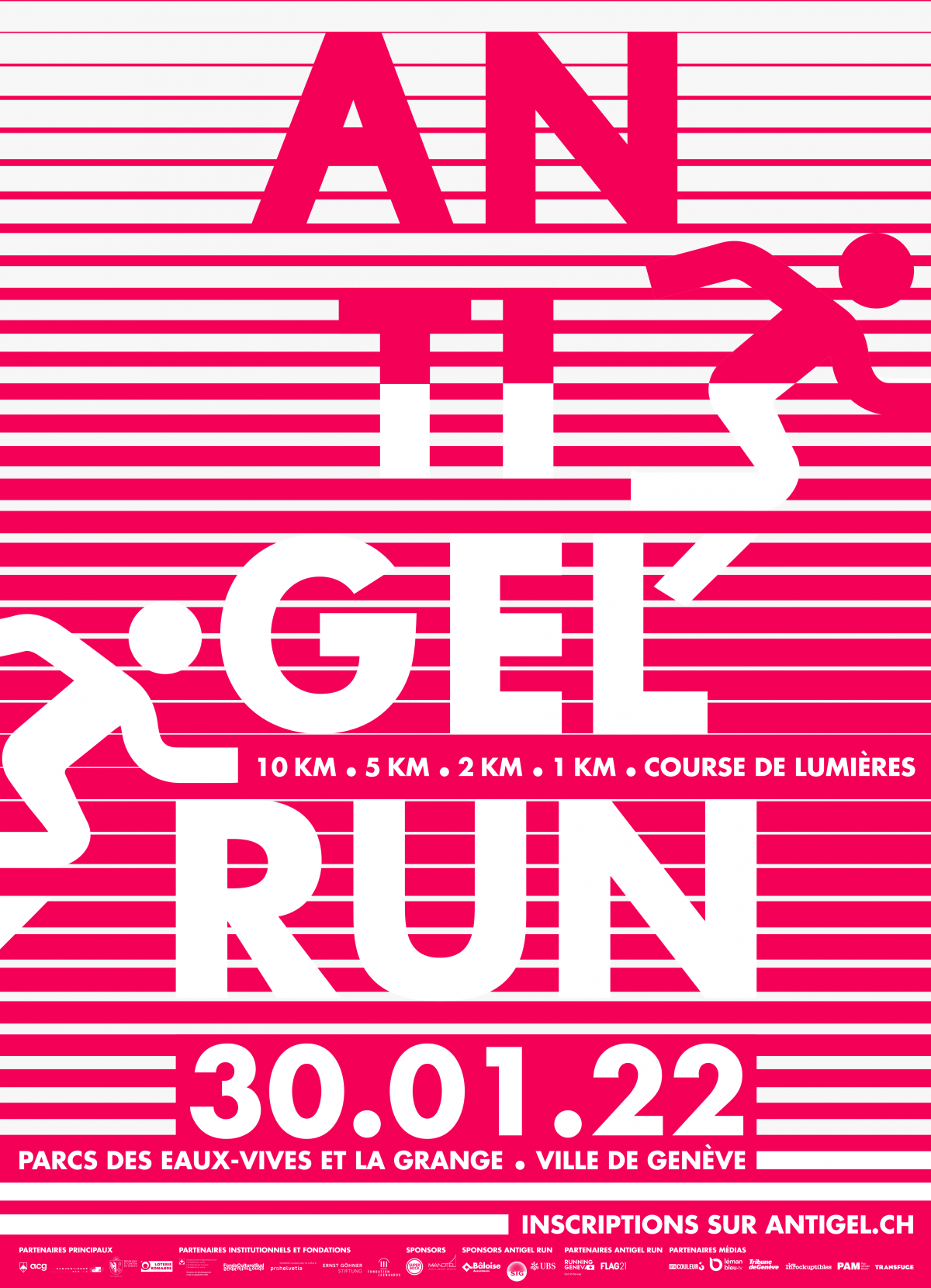 The 7th Antigel Run at last! Geneva's first popular race of the year is back in the brilliant setting of Parc des Eaux-Vives and Parc La Grange.
Come on, hop, hop, let's run! After last year's Antigel Run Challenge experience, the most colourful running competition in the Lake Geneva region is back in one of the city's most elegant tree-lined sites. Races for all ages (1km, 2km, 10km) announced from 3:30 pm and the traditional Night Run – Lights Run (5km) to be enjoyed at nightfall with all the lights on: Antigel Run is back to heat up the winter tarmac and light up the city! So get your tights and accessories ready: headlamps, lanterns, garlands, reflectors, LED ribbons, whatever's shiny and glittery goes! This year, the brightest costumes will be rewarded.
ADDITIONAL INFORMATION :
The collection of bibs is located inside the start/finish village in front of Villa La Grange, in Parc La Grange. It will start at 2pm and end at 5pm.